Plastic Modular Conveyor Belting - Flat top belts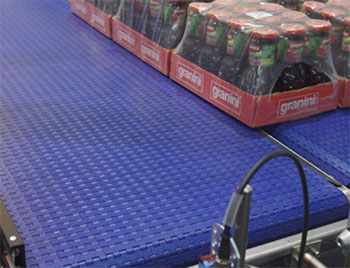 The traditional "tank track" plastic modular belt. This offers a very rigid and flat carrying surface for the product
It is available in a range of "pitches" from 5mm to 75mm and thicknesses - which give it its strength - to cover a multitude of different applications, from carrying small light products, to heavier boxes or light pallets.
Simple in concept, flat-top belts can come with a wide range of options and features.

The tomato conveyor in the picture has perforated plates to allow air circulation, as well as longitudonal flights to prevent the products "rolling back" on an inclined conveyor. It also features side-walls to prevent the product rolling off the side of the belt.