---
Plastic Modular Conveyor Belting - in all shapes and types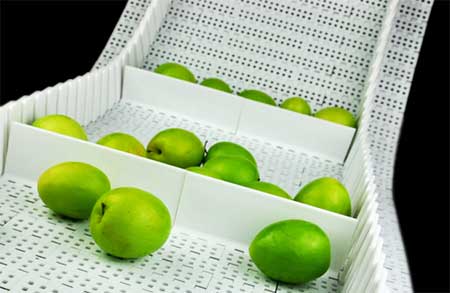 Star Modular belting supplies quality, durable plastic modular belting in a variety of styles, including flat, radial, spiral, and dynamic-ball belts.
These belting types come in an almost infinite combination of lengths and widths. Construction of the belts is in a "bricklay" fashion, giving huge flexibility in conveyor design. They can be fitted with flights, sidewalls and other accessories as required.
Frequently used in industry because of their ability to form curves and spirals - whilst still firmly supporting the product- they are also much in demand for straight runs of flat-top and flush grid configurations where strength and durability are required
One beauty of this belt type is that if a section is damaged, then only that section needs to be replaced. More conventional belts such as PVC or Rubber normally require that an entire belt be replaced.
Plastic Modular belting: Material Types
Not all plastic modular belts are equal. They can be made of different types of plastic, all with unique properties -
Polythelyne

This has good impact strength, but its primary use is in cold temperatures. It can withstand temperatures down to -73 degrees centigrade. A flexible material that is also good in radial curves, spirals etc

Polypropylene

A very common belting choice, this has good strength and impact resistance. It has excellent resistance to chemicals (Acid and Alkali)and is able to withstand higher temperatures than the other modular belting materials - up to 100 degrees centigrade in its standard form. Temperature resistance of up to 260 degrees centigrade is possible with special additives

Acetal

Sometimes referred to as "POM" (PolyOxyMethylene), this material is very hard, giving it reduced friction against both its support frame, and the carried product. It has a temperature range of between -40 and +90 degrees centigrade. Also available in Anti Static if required Other special materials are available, please enquire All materials are available in Food safe material and are FDA and EU approved for direct food contact "
Whichever type suits your needs, Star Modular can provide it in radial, spiral and flat-top configurations.