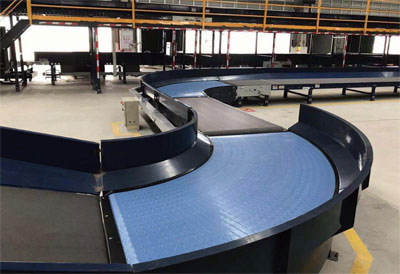 Zero-tangent plastic modular belting
Model: HS2000-A
Traditional curved plastic modular belts had to have a "run-in/run-out" straight section at the beginning - and end - of the curve. This could be up to 500mm long. On a comlex production plant, with multiple curved sections, this can add up to create a larger "footprint" for the overall system than desired.
Our Zero Tangent belts enable corner conveyors to be built without the need for a straight run in or out thus reducing the footprint of the conveyor. Fixed inner radius (600mm) with widths up to 1800mm available.
The flat top construction eliminates catch points, improves product stability and enhances safety. Product orientation is maintained and the belt will not track off, reducing downtime.
Available in all materials they are widely used in the logistics and food industries.